If you haven't tried boxing or the training that comes with it's time to give it a shot, literally and metaphorically!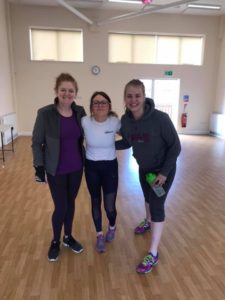 Boxing for Fitness is a class that everybody can participate in, developed by Ricky "The Hitman" Hatton. It improves athletic characteristic such as strength, endurance, speed and power. Michelle Cooper, aka The HIIT Woman (pictured right), is a Hatton Academy Boxing for Fitness Instructor and she's bringing classes to Moreton from May 2019.
Boxing for Fitness is not just any exercise class. It combines the principals of professional boxing training and functional fitness training to create a unique training system suitable for all. Boxing is one of the best multi-functional training methods and you can get a full body workout in the hour session. The HIIT Woman will have you in amazing bodily shape in no time at all!
Donna (pictured, centre) has been Boxing for Fitness since October and said: "I find it hard going to the gym as it means I need to find childcare and I don't like the gym environment. I started Boxing for Fitness because it's the best way to get fit and my son can keep himself occupied in the hall while I exercise with friends."
Another big benefit that comes along with boxing on a regular basis is that it goes a very long way in helping you to lose weight. An average class will allow you to burn anywhere from 400 – 700 calories. Siobhan (pictured left) was amazed when her activity watched clocked up 700 calories burnt in her first session.
Boxing for Fitness is great for improving cardiovascular health, developing hand-eye coordination, improving focus and reducing stress. Prince Harry has openly talked about his battle with mental health and how he sought refuge in the boxing ring to help overcome the death of his mother.
Classes are every Thursday evening in Moreton Millennium Community Centre from 2nd May, 6:30pm to 7:30pm and 7:45pm to 8:45pm, priced at £5 per class. Booking is essential as there is a limit of 20 people per class. Book online at www.thehiitwoman.co.uk under the Boxing for Fitness section, or, phone or text Michelle on 07968680284.